Great Horned Owls
Hi, I live in the Appalachian mountains of south eastern Kentucky. About 4 years ago I moved into a house that is located deep in a moist shaded mountain (just my style since I love nature, and am what folks in these parts call a 'mountain doctor', an 'old timey' herbalist, if you will).
In any case on my first night here I was welcomed by the calls of an owl...
LOUD calls...
I stepped out to investigate (at this point I should mention that the home had been empty for at least 6 or 7 years, the land likely never stepped upon in that time by human feet)...
Sitting RIGHT THERE on my front porch sat the most gorgeous creature my eyes ever had the honor of seeing... What I guess would be a "spotted" owl (thanks to the good folks of this website, I now know a lot more about owls, and know that this owl is indeed a Barred Owl)...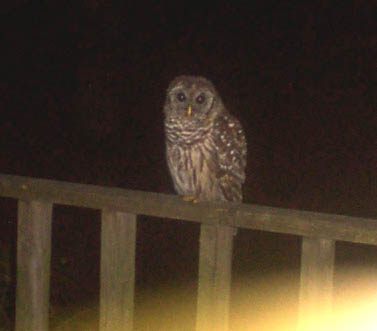 There I stood motionless, shocked, less than 6 foot away from him/her, fully expecting it to fly away at any moment... minutes passed and seemed to melt into hours, as we shared a kind of 'bond'.
Now I'm a very logical person, and love science... but I can't help but to trust in the metaphysical just a bit.
I could 'feel' that this was such a blessing, to stand so close to such a regal creature, and to have it to bless me with at least 10 minutes of its company before finally fluttering away to a near by tree...
Since then he/she ( I named the owl Oskarl ) sings me to sleep year after year, I open the window and enjoy his songs, haunting, spooky, but somehow reassuring... (I especially enjoy hearing him and his pal, calling one from the valley and he from my mountain)
I found it amusing to think that back in the old days I would have likely been considered a 'wizard' with my roots, concoctions, and charms, and now my fondness of this friendly owl whose' presence just reaffirmed my love of nature, and my connection with it.
A couple of days ago I came home quite late, and went on my porch for a smoke (nothing's quite like a pipe of fine tobacco, on a gentle summer night), I sat upon the rail of the porch for a few minutes and as my smoke was nearly finished I felt a SWOOP by my back, and there beside me sat Oskarl, about 2 feet away, just looking.... I felt daring and reach out and lightly brushed my finger against his chest, and he allowed, in fact he even let me go in a grab my camera to get the attached photo, then sit with him a few minutes more...
The awe I feel, the 'bond', I know is probably all in my mind...
The idea of an owl, being of the dark, and mysterious, sharing his mountain with him, etc, etc, helps me feel a bit closer to the 'shadows'. It is after all in the shadows that one most clearly sees the light ;) In reality, I suppose, he knew that I was here, meaning him no harm, on HIS mountain, so he figured he might as well let me be... :))
Unfortunately mountains here in Kentucky are being cleared at an alarming rate to make way of the all important and holy shopping malls, fast food joints, etc...
What is going to become of Oskarl, and his descendants? Will they end up like the dodo or moa? I pray not... At least as long as I live the owls of my mountain will have their homes, undisturbed...
Let's hope that the world wises up!?
The owl has been with us (human beings) for so long in our stories, religion, and mythology, they really are a part of 'us'! (Perhaps even more so than dogs and cats?)
Well thanks for letting me share my experiences with you, and thank you for keeping such a great website, may it continue to grow and prosper along with our friends, the wise old owls.
CR Osborne