Owls by David Hollands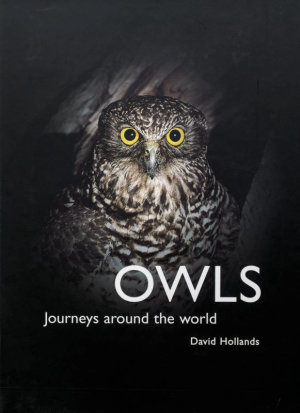 Dr. David Hollands is, by his own confession, a man possessed with a rare form of insanity. Join him as he travels the world on a quest to satisfy his insatiable obsession with owls!
Rather than a scientific journal, this book is a chronicle of David's photographic journey, and begins in England in the early 60's where he photographs a family of Barn Owls.
Next, we move to the frozen tundra of North Alaska, where he joins well-known owl biologist and author Denver Holt in search of Snowy Owls. There are some interesting twists in this adventure, as their intended photographic quarry turn on them in defence of their nests.
In Argentina, David photographs Burrowing Owls, amazingly eking out an existence on vacant lots in a housing estate near Buenos Aires. Again, trouble brews in this chapter when security guards become suspicious of this man with a camera.
The next chapter sees David in Austria, with the king of owls, the European Eagle Owl, and the Long-eared Owl.
Christmas Island is an Australian Territory 300kms south of Java. It has a species of endemic Owl, the Christmas Island Hawk Owl - another species successfully photographed by Dr. Hollands.
Costa Rica is the next stop, where a long crusade is undertaken to photograph the strikingly unusual Spectacled Owl. We also get to see the Pacific Screech Owl and Ferruginous Pygmy Owl.
In Finland, David braves some unusual Finnish traditions with Owl legend Pertti Saurola, but is rewarded with an incredible insight into the lives of Ural Owls. We also get to see Pygmy Owls, Great Grey Owls, and Tengmalm's Owls.
'An Owl that lives by catching fish' is the subject of the next part of this photographic journey. The Blankiston's Fish Owl was first described by Thomas Blakiston, British consul in Hokkaido, Japan - and it is there that David photographs this impressive bird.
Spotted Owls are probably the best known species on the planet, due to the controversy over their dwindling old-growth habitat in North America. In Oregon, David spends a day with famous Spotted Owl researcher Eric Forsman, and has many close encounters with this confiding owl.
The next chapter is devoted to native Australian owl species: the Lesser Sooty Owl and the Rufous Owl. There are some spectacular shots of these secretive birds at the nest, as well as detailed log of the particular Rufous Owl's behaviour.
Despite not seeing the Pel's Fishing Owl in South Africa, David's next chapter includes pictures of the striking White-faced Scops Owl. There are also intimate pictures of a Spotted Eagle Owl pair, and even a glimpse of the Verreaux's or Giant Eagle Owl.
The last photographic chapter sees Dr. Hollands back in Australia, to capture the largest of Australian Owls, the Powerful Owl.
The book wraps up with a chapter outlining the future prospects of the world's Owl populations.
Anyone with even a slight love of nature is bound to be entranced by the beautiful photographs, and inspired by David Hollands' passion for the most interesting family of birds in the world! I have greatly enjoyed experiencing the journey by experiencing this book, and have no hesitation in highly recommending 'Owls: Journeys around the world'.
Available from David Hollands' Website.