Owl Cam DVD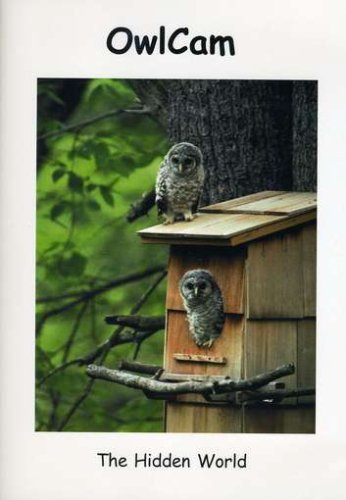 OwlCam: The Hidden World is the DVD release of video footage from the OwlCam website, which was set up in 1997 to spy on Barred Owls nesting in an artificial nest box. This DVD follows the 2001 breeding season, in which the adult Barred Owls, Ward and June, raise 3 chicks - Emmett, Abigail and Ernie. It is put together in the style of a fun documentary, along with narration.
Over 1000 hours of raw video and audio were compiled and edited to create this 110 minute film. The overall production quality of this DVD is marvellous. The narration and editing are very professional, combining video taken from outside the next box with amazing close-ups taken with the video camera mounted inside the nest box.
From the back cover:
"Join a family of barred owls through cameras and microphones inside and outside their nest to experience their world as it has never been seen before. From the hatching of the first egg to the heroic adventures of the youngest owlet, you will witness the devotion and determination that have sustained owl families for thousands of generations. Based on the five-year study of a pair of completely wild barred owls named Ward and June who have entertained and educated more than one million visitors to the OwlCam.com website."
For more details, and purchase options, please visit OwlCam at Amazon.com