Owl DVD by John Young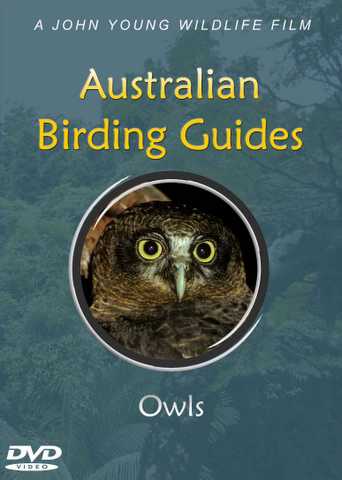 Australian Birding Guides: Owls is another film by Australian Naturalist and Owl expert John Young. It is exactly what the name implies - a video field guide to the Owls of Australia. The film goes through each species as the narrator basically reads us the details just like one would read from a feild guide book: Introduction, Size, Range, Status, Habitat, Description, Food, Breeding, Voice and Summary.
Personally, I found this aspect a little tedious, but this certainly does not take away from the great camera skills and amazing footage that John Young is famous for. Many of the shots are re-used from John's earlier Owl film "Wings of Silence", but there is enough new material to make this guide a worthwhile purchase.
There are many aspects about the guide that appeal to me - species identification is made easier by hearing the calls and seeing video footage of each species in its natural habitat, as well as detailed close-ups. In some cases, there are side-by-side comparisons with similar species - The Barn, Masked, and Grass Owl.
From the back cover:
"Bring the amazing owls of Australia into your very own lounge room with this comprehensive DVD identification guide. Filmed by Australia's incredible naturalist, John Young, the Owls Birding Guide will give you a rare insight into the lives of some of the most stunning and mysterious birds in the world, including the intimidating Rufous Owl and the beautiful Sooty Owl. This guide will also give you the essential information for finding and identifying them in the wild."
As of 2020, this DVD does not seem to be available anywhere online.